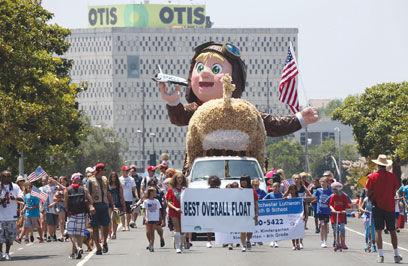 Loyola Boulevard was awash in red, white and blue last Friday for the 14th annual Westchester Fourth of July Parade, where thousands lined the streets to cheer on more than 50 volunteer-crafted entries by community groups.
Winning the award for best overall float was Westchester Lutheran Church and School's depiction of a young aspiring aviator playing with a toy Space X shuttle. Emerson Avenue Community Garden's depiction of a suburban home complete with white picket fence was named best in relation to the "My American" theme, and Otis College of Art and Design's assembly of costumed marchers was chairman's choice.
The event was sponsored by the LAX Coastal Area Chamber of Commerce.
— Joe Piasecki