L.A. County Supervisor Don Knabe on bringing a 20th-century engineering marvel into the 21st century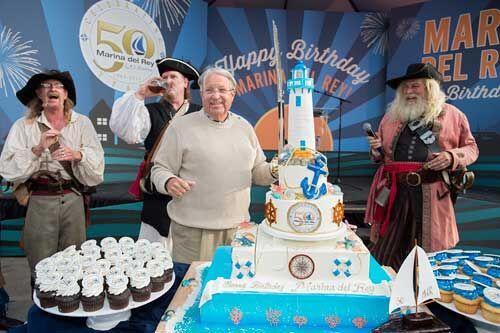 Marina del Rey is not only a unique place to live, work and play — it's different by design.
Equal parts small-craft harbor, tourist destination and a residential neighborhood of about 9,000 people, the marina is unique among Los Angeles County's unincorporated communities in that county officials don't just make the rules, they also play the role of landlord.
As was the initial vision of former Los Angeles County Supervisor Burton W. Chace, the county retains ownership of the marina and leaseholders pay for the right to develop it. This public-private partnership has paid off to the tune of more than $58 million in revenue to county coffers last year alone.
The heir to Chace's legacy, current Los Angeles County Supervisor Don Knabe has been the top public official in Marina del Rey for 15 years. But Knabe has been in public service in Marina del Rey twice that long, when he served as chief of staff to former L.A. County Supervisor Deane Dana in the 1980s.
With the 50th anniversary of Marina del Rey fast approaching and the county gearing up for a major redevelopment and modernization effort, Knabe spoke to The Argonaut about the county's plans for bringing Chace's vision firmly into the 21st century.
— Gary Walker
From the 1980s to today, what are some of your recollections about Marina del Rey?
It was in a lot better shape back then. We've been trying to convince people that we need to upgrade our facilities and improve our mobility now that the marina is growing. That's something else we've seen transpire over the years — we've seen the marina become a tourist destination and an economic engine for the county. That's another reason why we need to update our facilities for our boaters, our residents, our lessees and our tourists.
Looking back at your 15 years as a county supervisor, what local accomplishments are you most proud of?
I think updating our Local Coastal Program [Marina del Rey's planning and land use guidelines] was really important for the future of Marina del Rey. That helped set in motion a lot of what we're doing now with our visioning plan. I realize that some people are upset about what we're doing, but I really feel strongly that we're on track to polishing this jewel that we call Marina del Rey.
In your "State of the Marina" speech last year, you spoke of the need to provide amenities that would attract employers and workers involved in the kind of tech-related business thriving in Playa Vista, Venice and Santa Monica. Does that mean building creative office space?
We have to watch that very carefully. I don't know if those kinds of operations would fit in here, especially if they are near the water. We definitely need to be competitors for this new phase of technology and provide the amenities and living experiences, but there is a limit to what we can do.
People who own small boats worry that the county's visioning statement for the future of Marina del Rey would marginalize them, but you've said the county wants to make more room for small boats.
That's right. We're working to expand those opportunities because we know there are still a lot of people who own the smaller vessels. The economics show that people who keep their boats in the water tend to own larger boats, so we're building more [dry] storage for the smaller boats.
Term limits mean you're winding down your role as supervisor about a year or so after Marina del Rey's 50th anniversary. What are your thoughts about this milestone?
I've been really excited for a while about how we're moving forward, moving in the right direction for the marina's viability. I know there are some people who don't like change and that change can be difficult, but we have to look at the marina as a regional asset.
What is your favorite memory of Marina del Rey?
Two of my favorite marina memories are riding in the annual holiday boat parade and attending concerts in the park. There's no better venue to listen to rock 'n' roll and jazz than Burton Chace Park, overlooking the bustling marina as the sun sets on a warm summer night.