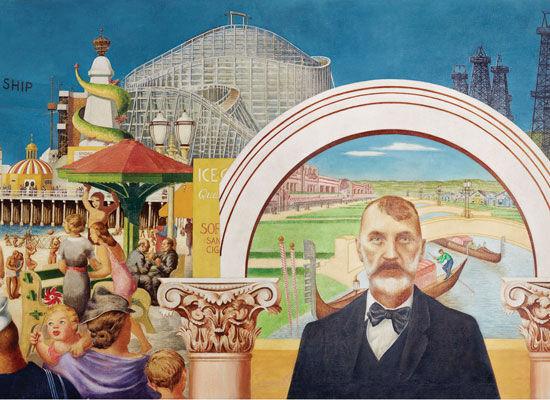 Biberman's 'Story of Venice' has left the former Venice post office but is expected to return
By Claire Kaufman
For the first time in six decades, Edward Biberman's iconic mural "Abbot Kinney and the Story of Venice" is missing from its place on the wall of the former Venice post office at Windward Circle.
Not to worry, though — it's on loan to the Los Angeles County Museum of Art and is expected to return next year.
In 2011, Hollywood producer Joel Silver bought the 1939 building from the U.S. Postal Service and is currently converting it into a film production studio. Silver also holds a 50-year lease on the USPS-owned mural and, according to a spokesperson, plans to reinstall it at the now private former post office building when renovations are complete in late 2015.
There are loose plans to make the mural available for public viewing, educational programs and maybe even art and architecture lectures.
In the meantime, Biberman's 16-by-6.5-foot oil on canvas mural, mounted on aluminum, pops out dramatically from a white wall at LACMA. It anchors "Edward Biberman, Abbot Kinney and the Story of Venice," an exhibit rich in historic photographs (including the one Biberman supposedly used to paint Kinney) and documents about Venice such as historic brochures and Kinney's original architectural blueprints for the layout of his resort town.
The Social and Public Art Resource Center (SPARC), a Venice-based nonprofit arts center that produces and preserves public art, is hosting a separate local exhibit highlighting the importance of Biberman's work and of murals in general as a public art form. A blown-up image of Biberman's original sketch for "Abbot Kinney and the Story of Venice" is projected on the wall, flanked by many of Biberman's unrealized mural sketches, some lesser-known works and comments attributed to Biberman that contextualize his artwork.
As the postal service continues to sell off its historic post offices and create private leases for the buildings' artworks to mitigate its deepening financial troubles, the fate of hundreds of historic WPA-era murals around the nation are uncertain, said muralist Judith Baca, who founded SPARC.
"It is very ironic to privatize these publically contracted works paid for with public monies, painted for the public interest in public space," Baca said.
Biberman won the Venice Post Office commission in 1941 through the U.S. Treasury Department Section of Fine Arts, a New Deal program that sponsored construction of more than 1,100 post offices and their interior artwork. Biberman drew inspiration from the early 20th century Mexican muralism movement, which emphasized the importance of public art for the common man.
"He wanted to dramatize the honky-tonk town that was full of life," said Suzanne W. Zada, who manages the art collection of Biberman's estate.
The painting itself centers on Abbot Kinney, the "Doge [Italian for "Duke"] of Venice" who developed the community at the turn of the century. Behind him, idyllic canals, gondolas and seaside cottages represent Kinney's architectural desire to create a replica of Venice, Italy.  While Abbot Kinney is immersed in his dream of a West Coast cultural Mecca, the reality of Venice, as Biberman captures on either side of the mural, is less than ideal.  To the left of Kinney, Biberman depicts the crowded, circus-like amusement center of Venice in the 1940s (not a far cry from today); to the right, an oilfield scene offers a critique of the spoiling of wetlands that occurred during the rise of oil interests in the 1920s following Venice's annexation by Los Angeles.
Following last year's city mural ordinance that lifted an 11-year ban on new murals, emerging artists will finally be able to use Biberman's work as a guide for new works of public art, said Baca.
"We have an opportunity to give young people inspiration and insight into street art and the idea of public art," said Baca.
While some Venetians have been critical of Silver's purchase of the historic building and taking the mural out of regular public view, that anger is misplaced, said former Venice Neighborhood Council President Linda Lucks. An art and architecture preservationist who has restored two Frank Lloyd Wright houses, Silver was probably "the best alternative on the table," she said.
Silver, according to his spokesperson, has invested about $100,000 in the leased Biberman mural's restoration and put renowned art conservator Nathan Zakheim in charge.
"I think it is wonderful that he has saved the mural and restored it," said George Drury Smith, founder of the Beyond Baroque Literary Arts Center, who participated in a recent discussion of the mural at LACMA. "That building would have passed onto someone with a lot less respect for history than he has."
SPARC's "Lost Horizons: Mural Dreams of Edward Biberman" continues through July 31 at 685 Venice Blvd.; LACMA's exhibit continues through Nov. 16.