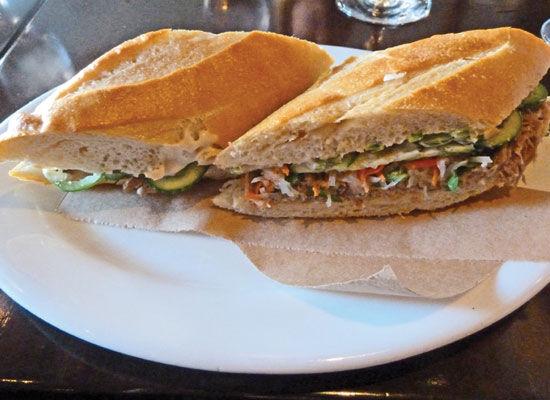 It used to mean something when a renowned chef opened a casual bistro. At one time it was a rebellion against formal ideas, and later a statement about the virtues of simple food by someone who had mastered the fancy stuff. Today it just means that a chef has thoughts about how to create modestly priced dishes with style, and can appreciate a lively, casual atmosphere as much as anybody else.
An example: Next Door, the bar/bistro that shares a kitchen with Josie, an adventurous market-driven restaurant in Santa Monica. The menu at Next Door fits the gastropub category with high-style versions of bar snacks, and many items fit that salty, sweet, meaty profile. The starter I had heard most about fits the popular meme of putting bacon in anything, however unlikely. The beer and bacon caramel corn has gotten rave reviews from some critics but left me cold, and I noticed that at the end of the meal it was the only shared plate that wasn't stripped clean. If you really love bacon, popcorn and caramel this might be your dream dish, but it isn't mine.
We were much happier with deviled eggs with duck cracklings and leek shavings, which were served over julienned pickled beets. There was a hint of horseradish in the eggs, and paired with the vegetable sweetness this created a sophisticated version of a 1950s favorite.
We were just as enamored with the starter of shrimp and grits – three medium prawns in a sweet and spicy barbecue sauce with chopped herbs over delicious rough-textured grits. I grew up in California never understanding why people liked grits, which I associated with a kind of grim, bland mush. These tasted like concentrated corn and had the agreeable chew of steel-cut Irish oatmeal.
For lunch we decided on sandwiches – the pork belly banh mi, a "sloppy roast pork sandwich," and a hot dog with sauerkraut. As a general thing I don't like hot dogs – I'll take a rough-ground bratwurst rather than ballpark dogs that taste more of paprika and salt. Every dog does have its day, and this one was actually quite good – the freshly baked baguette and kraut with a touch of fennel were contributing factors in its favor. If there was ever a dog I'd order again, this was it.
The pork belly banh mi showed that Josie knows when not to mess with success. It had the authentic flavor balance of the Vietnamese favorite; just enough rich meat to make an impression, pickled and fresh vegetables that make it an interesting salad in a bun, and just enough hot pepper and sauce to add a taste of the exotic. As for the sloppy roast pork, the surprise was that it wasn't – sloppy that is. With that name I had expected a river of sauce, but it was a large sandwich with tasty roast pork, garlic mayonnaise, melted provolone cheese, and fried rapini. It was large enough to be a bit unwieldy and very good, but not particularly sloppy – nobody went home with any sauce on their shirt.
If you don't like sandwiches, there are also salads and the famous wild mushroom quiche that accidentally became the signature amuse-bouche at Josie. (She gave slices away the first week she opened, and when she tried to stop serving it there was a general uprising). There are dishes for many tastes, most moderately priced; you can order a full entrée of salmon with salad and crushed hazelnuts for only $20, or enjoy the sandwiches for under $15.
Whatever you pick, you will get a meal that shows what happens when an inventive pro decides to turn her hand to gastro-bistro cuisine.
Next Door is at 2420 Pico Blvd. in Santa Monica. Open daily except Monday for lunch and dinner. (310) 581-4201. Parking in rear, full bar, children OK. Menu at nextdoorbyjosie.com. (310) 581-4201.