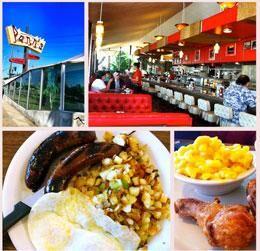 Growing up in Los Angeles meant I got to try almost every kind of food there is. On special occasions my family would pick a place (usually one of three) and that would be our night out.
I have been coming to Pann's in Westchester since I was a little girl in braids. It was our most frequent stop. When you walked in you couldn't help but smile and feel welcome.
Even as a child, I loved the sparkled floors, the music from the 1950s playing overhead (which could make you dance in your seat), the photos from the past, the delicious milkshakes, and that smell – the smell of homemade fried chicken or fresh baked pies just subtle enough to make you somehow ravenous. Pann's holds a very special place in my heart.
As time went on and I "grew up," I would still meet my grandfather here every couple of weeks to get breakfast or lunch, a cup of coffee, and just talk about life (and if we were lucky to see owner Rena Panagopolous).
It had been 10 years since I last came to Pann's because once my grandfather passed away, it just didn't seem the same. Somehow, it seemed the right time to pay homage to a restaurant that has been a permanent fixture of my childhood memories and a welcome reminder that some things do stay the same (in the best of ways).
For those that don't know, this will be my last article with The Argonaut. I've resigned and well, I thought it fitting to say goodbye by taking you to one of my most nostalgic L.A. stops. When you walk in you're transported to a different time but when you sit down, what you taste is food that still happily fills your stomach and reminds you to pause every once in a while and just enjoy living. If you're lucky, you can find Panagopolous – now in her 90s – walking around to check on the tables.
The menu at Pann's is full of variety but they are known for their breakfast and for their fried chicken. They have incredible French toast, items like "Uncle Bud's Mississippi Cheese Eggs," smoked barbeque brisket and ribs, homemade shakes, famous chili, traditional salads, and almost anything deemed American comfort food.
For old times sake, we ordered breakfast and fried chicken. I went with the "hot links" and my waitress (because at Pann's you can still call them waitresses) cautiously warned me that the hot links are really "hot!" I assured her that I can handle the heat and she smiled with a familiarity that I love about restaurants like this: pure homey service. We then added the fried chicken with a biscuit. While we waited, we noticed a leaflet on the table telling the story behind the restaurant design. Pann's is one of a kind. It was designed by Helen Liu Fong in 1949 and the design was later termed "Googie."
Soon our meals arrived and they were down right delicious! The sausage is spicy with a sweet finish, the eggs are perfectly cooked over medium, and those country potatoes are worth every bite! The fried chicken is battered delicately – not overly thick – and the chicken is cooked just to juicy perfection. The sides, the macaroni and cheese and potato salad (yeah, not a carb-free day) are just like I remember. The biscuit and cornbread are fresh and it takes me back. Knowing the meal will be consistently good is why Pann's has survived through decades of economic uncertainty.
There is something wonderfully endearing about Pann's and the fact that it's still standing strong since opening in 1958. It is the perfect end to my journey with the paper. Thanks to Pann's for decades of memories.
Happy reading, happy eating, and remember to take the time to not only explore the restaurants in this city but take a moment to meet the people who run it. There's a story behind each and every one of them. And don't forget to tip!
Hours: Sun-Wed 7 a.m. – 9 p.m. | Thurs-Sat 7 a.m. – 10 p.m.
Pann's, 6710 La Tijera Blvd., Westchester