Surya's Martha Soffer curates customized journeys for optimal wellness
Martha Soffer's interest in wellness was inspired by her grandmother, who owned a large farm in her native Colombia. Growing up, Soffer watched her utilize the herbs and flowers that grew there to treat various health conditions.
"My grandmother had a huge garden with roses and different types of herbs, and she would mix ingredients from her garden to treat her arthritis pain," Soffer said. "Anytime I got sick or was suffering from some type of ailment, she taught me what herbs to treat it with so I learned a lot about natural healing at a young age."
Soffer was also introduced by a friend to Transcendental Meditation, a form of silent mantra meditation that helps decrease stress and anxiety, in addition to improving one's health. The experience, Soffer said, ultimately changed her life. 
She later moved to the United States to study English and computer science at Maharishi International University in Iowa, which features a consciousness-based education system that includes the practice of the Transcendental Meditation technique. One day on campus, Soffer noticed a woman with glowing skin and fragrant oil in her hair, which piqued her curiosity.
"I was fascinated by the incredible smell and asked her what it was," Soffer said. "I learned that she was participating in a Panchakarma series, which is the Ayurvedic process of detoxifying and purifying the body for several days. She referred me to the campus Ayurvedic center and as soon as I walked in, I loved it. I applied to the program and began my study of Ayurveda."
Soffer learned about plants, diet and the human connection to nature, which resonated with many of her grandmother's teachings. After completing the program she came to Los Angeles in 2000 for six weeks to teach a course, and it was during that time that she met her husband, Roger, which prompted her to relocate to LA. 
The following year Soffer opened Surya, which at the time was a one-room clinic out of her home. It began to draw national attention and was written up by the LA Times, eventually expanding to a bigger location when Soffer moved to a house in the Pacific Palisades.
20 years later, the owners of Santa Monica Proper Hotel were looking to add a spa. They met Soffer and fell in love with her treatments, and she spent the next year and a half working with renowned designer, Kelly Wearstler, to create the ultimate wellness sanctuary.
 Surya opened its doors at Santa Monica Proper Hotel in April 2021. The stunning 3,000 square-foot space is tranquil and welcoming with a palette of soft, warm colors, along with marble, wood and stone mediums. It includes a meditation den, community room where guests can enjoy meals between services, and beautiful private treatment rooms with en-suite bathrooms and soaking tubs.
"Kelly and I shared ideas with each other and it became this beautiful place," Soffer said. "It's been amazing since we've been here."
At Surya, Soffer presents a modernized version of Ayurveda to her clients through an extensive menu of offerings, which include luxurious spa therapies such as Abhyanga (a massage where two practitioners work together in synchronized movements) and Shirodhara (warm herbal oil is poured on the forehead for ultimate relaxation), Ayurvedic cooking classes, one-year programs and professional certifications for every level of interest, personal consultations with Soffer, and Panchakarma—a series of immersive and restorative therapies that last anywhere from three to 28 days.
A traditional Hindu healing and medicinal practice, Ayurveda was developed by Southern Indian yogis over 10,000 years ago. It incorporates herbs, meditation, diet, yoga, massage and other methods to help cleanse the body while restoring balance to one's mind, body and spirit. 
According to Soffer, people are made up of five combined elements (air, water, earth, fire and space), which together make up three doshas (vata, pitta and kapha), also known as the body's governing principles. Each person is made up of different doshas or a combination of several of them, and she teaches them to pay attention to the areas that need balancing in order to restore them to a happier and healthier state of well-being.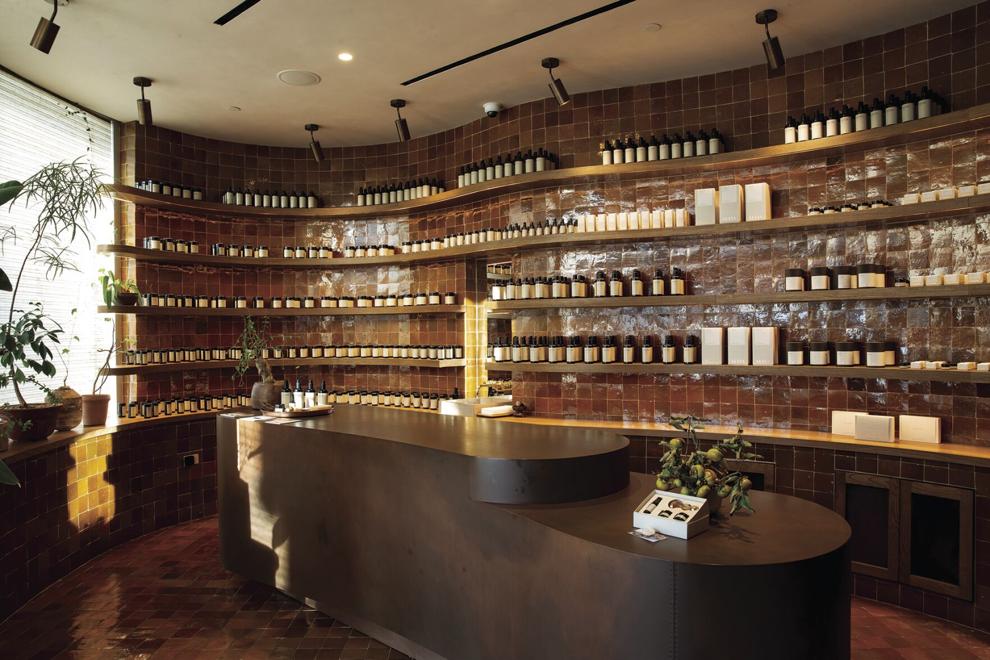 Due to the excellent results that her services and programs yield, Soffer has gained an international following, in addition to a long list of celebrity clientele that includes Gwyneth Paltrow, Beck, Kourtney Kardashian and Nicole Richie, among others.  
"People come from all over the world to participate in our Panchakarma program," Soffer said. "Treatments are customized according to each guest's needs. I am also able to read pulses, which can tell me a lot about a person's health, what they are going through and where they need to be balanced."
At Surya, guests are greeted by a custom oil blend bar in the reception area, along with beautiful walls lined with powerfully healing skin and self-care products ranging from bath soaks and body oils to lip salves that Soffer makes by hand. Among her standout products is the Balancing Collagen Cream, which contains 46 healing botanicals, 13 nourishing oils, 14 essential oils, and a proprietary blend of collagens and milks to moisturize and repair skin while reducing fine lines, wrinkles, blemishes and unwanted marks.
"The cream is really nourishing and it comes from a recipe that my entire family has used," Soffer said. "All of my aunts in Colombia are in their seventies and they have such amazing skin. I made the cream with my grandmother's recipe combined with all of my knowledge. It's very rejuvenating for skin."
During their visit, guests are also served a slice of freshly baked almond banana walnut bread with ghee. The bread is grain-free and paleo, and is baked with Ayurvedic herbs and spices. It is available for sale by the loaf and comes in other flavors such as apple date, vegan apple, and gingered peach and turmeric. For those that can't make it to the spa in person, all of Soffer's products including the bread can be purchased on Surya's website.
"The bread is delicious and high in protein," Soffer said. "I'm working on a new flavor right now along with more products. I'm also developing some products for a project with several companies that I can't share just yet. We are planning to offer more retreats in the future, including one in Kauai in January, so I've been learning about Hawaiian culture, herbs and traditional Lomi Lomi massage to incorporate into the treatments and experiences I'm developing for the retreat."
Soffer also plans to offer more mini-retreats and experiences like yoga classes and sound baths at Santa Monica Proper Hotel so that more local residents will be able to experience some of the magic of Surya.
"I love being in Santa Monica," Soffer said. "I love the farmers markets and being so close to the ocean. The air here is cleaner and everything works so well together in harmony. It truly is an amazing place."
Surya
700 Wilshire Boulevard, Santa Monica
310-459-7715
Instagram: @suryaspaayurveda