'Transit Dances' brings performance art to the Expo Line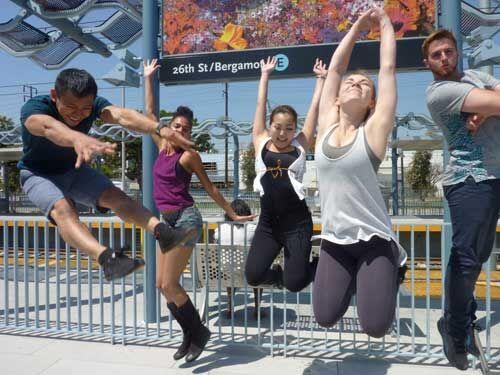 Public transportation and dance may have more in common than meets the eye. After all, both move people.
On Sunday, the Metro meets movement when Donna Sternberg & Dancers presents "Transit Dances," a series of three site-specific dance works along segments of the Expo Line in Santa Monica.
For this piece, Donna Sternberg & Dancers' Artistic Director Donna Sternberg was inspired by San Diego-based choreographer Jean Isaacs' "Trolley Dances" — a series of dances set in a number of urban spaces connected by San Diego's trolley line — and wanted to adapt that mode of locomotion to Expo.
"It's a cool way to bring art into the community. Instead of people coming to see a concert, we bring the performance into the community," she says. "I also like the idea of connecting all the sites using the Metro and making the Metro a fun way to discover something new."
A cycle of three performances begins at noon and then again at 1 p.m. The first dance happens just off the 26th Street/Bergamot Station stop, with jazz dance ensemble JazzAntiqua performing on the campus of Agensys (1800 Stewart St.) in the biotech firm's sculpture garden. The next stop is the 17th Street/ Santa Monica College Station, with Donna Sternberg and Dancers performing a contemporary number at nearby Memorial Park (1401 Olympic Blvd.). The finale happens just off the Downtown Santa Monica Station, with Arpana Dance, which specializes in Bharata Natyam dancing, performing on the Colorado Avenue side of Santa Monica Place.
Tour guides will lead the way for ticketholders, but those who stumble upon one of the in-progress performance are welcome to follow along.
"People will happen upon the performance. I really like when that happens," Sternberg says. "We're hoping to get a lot of people who might not ordinarily go to a dance performance."
— Christina Campodonico