Herb Alpert and Lani Hall perform together to benefit P.S. Arts, which Alpert seeded 25 years ago
By Christina Campodonico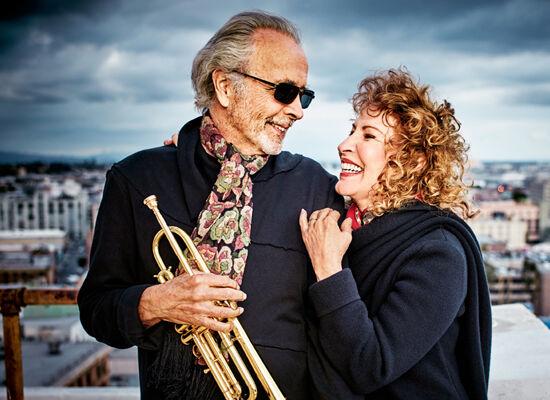 Legendary trumpeter and A&M Records cofounder Herb Alpert is known for his generosity as much as his music.
Since 1998, his foundation has given more than $150 million away to philanthropic causes. Recently, Alpert's foundation gave $10.1 million to Los Angeles City College so that its music majors can attend tuition-free.
On Saturday, Alpert and his wife — Grammy-winning vocalist and producer Lani Hall, of Sérgio Mendes & Brasil '66 fame — will give the gift of music during a special benefit concert in Santa Monica for P.S. Arts, a non-profit organization that provides arts education to underserved public schools and communities in Southern and
Central California.
Westchester-based P.S. Arts and Herb Alpert have a special history and relationship going back 25 years, explains Herb Alpert Foundation President Rona Sebastian.
"One of the things that's very special is the whole genesis of the [P.S. Arts] program," says Sebastian. She relates how Dr. Paul Cummins, then the headmaster of Crossroads School for the Arts & Sciences, met Alpert at a gathering one evening and the two got to talking about the state of arts education in California public schools.
"Paul was expressing his dismay that, particularly in L.A. public schools, the arts had been cut," says Sebastian. "Herb's response was basically, 'Let's do something about it.' Herb provided seed funding, and that led to P.S. Arts operating in Santa Monica schools. Now, from that one school [Broadway Elementary] and that original seeding that Herb provided, it's serving 25,000 kids all over the place."
Saturday's benefit concert not only supports bringing high-quality arts education into classrooms all year long, it also celebrates P.S. Arts 25th anniversary and its longtime relationship with the Herb Alpert Foundation.
"In the last decade, our support to them has been extremely ongoing and extremely gratifying," says Sebastian. "We've been really looking at and celebrating that this organization has reached 25 years and has grown so much."
Both Alpert and Cummins are receiving special honors during the P.S. Arts benefit show.
Alpert and Hall are expected to perform songs off their new album "Human Nature," which is due for a Sept. 30 release.
The ever-prolific Alpert, 81, could not be reached for this story because he's already back in the studio, recording or producing another album, according to a foundation spokesperson.
Alpert's musical accomplishments to-date include nine Grammy Awards and five No. 1 albums, with 14 platinum and 15 gold records to his name.
Hall, 70, has recorded more than 20 albums — and in three languages. She was lead vocalist for Brasil '66 from 1966 to 1971 before embarking on a solo career that included the eponymous theme song of the 1983 James Bond film "Never Say Never Again," a Grammy for Best Latin Pop Performance for "Es Fácil Amar," and a second Grammy in 2013 for producing Alpert's "Steppin' Out."
Sebastian notes that the benefit concert is a rare chance to see Alpert and Hall perform live in Los Angeles.
"You can count on one hand the number of times that Herb and Lani have performed in L.A.," says Sebastian. "It's a really great opportunity to enjoy their enormously entertaining and beautiful music and their talents."
And to see them sharing the joy of music, while helping out a good cause that they deeply care about.
"They're the kind of the people where they really put their money where their mouth is," says Sebastian. "They care so much about the arts and people. They get genuine satisfaction about helping others. …  It's in their DNA."
Herb Alpert and Lani Hall perform at 4 p.m. Saturday at the Ann and Jerry Moss Theater at New Roads School, 3131 Olympic Blvd., Santa Monica. A reception follows. Tickets range from $75 to $325; sponsorships, from $5,000 to $25,000. Call (310) 586-1017 or visit psarts.org.
Save
Save