Tim Robbins has found the role of a lifetime in running The Actors' Gang, a small experimental theater in Culver City that's making a big difference in schools, prisons and the artistic community
By Christina Campodonico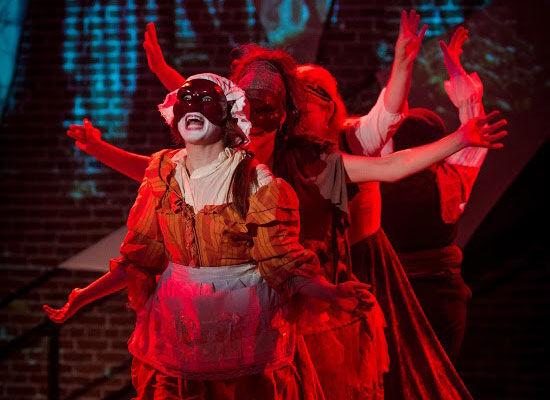 Tim Robbins is best known for his roles on the big screen — unjustly imprisoned Andy Dufresne in "The Shawshank Redemption," up-and-coming pitcher Nuke LaLoosh in "Bull Durham," self-obsessed Hollywood exec Griffin Mill in Robert Altman's "The Player" and murder suspect Dave Boyle in Clint Eastwood's "Mystic River."
Even in L.A., you wouldn't expect to see him outside an industry setting, let alone pouring $5 drinks — unless, of course, it's in The Actors' Gang lobby at Culver City's historic Ivy Substation.
In a blue button-up shirt and spectacles, the 6'5" Robbins looks right at home behind the bar, leaning in, smiling and talking with theatergoers who've just come out of a Saturday night performance of "1984," which he's directing at The Actors' Gang through Oct. 8.
For the Academy Award-winning movie star and Venice Beach local, the 99-seat theater is a creative base camp — an R&D lab where he tests out theatrical works with a company of 40 actors. Each Sunday the group convenes for a five-hour workshop in which they "suit up" into a community of characters, work through plays in development, and practice their signature "style" — a fusion of techniques from Italian theater called commedia dell'arte, Ariane Mnouchkine's avant-garde Théâtre du Soleil and references from American
pop culture.
"The Gang, it was always the place I returned to after I went off to do something in Hollywood," says Robbins, who has used his earnings from film and television over the years to support the theater. "I had a laboratory. I had a place to go back to where I could experiment with new forms. I could work on a satire. I could write and direct.
Robbins co-founded The Actors' Gang in 1981 with UCLA theater department classmates and members of his intramural softball team.
"We were a group of young, energetic, slightly anarchic punk rockers who wanted to do a different kind of theater than the theater that was being promoted at UCLA," says Robbins, who was interested in exploring genres and styles outside of the American realism being touted at the time.
The group started off in Hollywood, staging madcap midnight showings of Alfred Jarry's 1896 French play "Ubu the King," — "a crazy, scatological, Dadaist piece," says Robbins — that ran for six months to sold-out houses and rave reviews.
Robbins then adopted commedia dell'arte as a framework for his company's training after taking a workshop with Théâtre du Soleil's George Bigot during the 1984 Olympic Games' L.A. Arts Festival, where he learned from Bigot that "great theater is made of extraordinary events and a commitment — a complete commitment — to emotion."
After taking a brief step back from The Actors' Gang in the late 1990s, Robbins returned as artistic director in 2001 and moved the company to Culver City in 2005.
Robbins says it takes "persistence, relentless commitment and a certain amount of stubbornness" to sustain a theater company in Los Angeles for 35 years. But he also feels that running a performing arts institution also entails a large degree of responsibility and public service.
"Arts organizations can't be insular," says Robbins. "I believe cultural organizations have to approach their longevity with the idea of a certain amount of responsibility. … And that responsibility can't simply be giving students tours of your theater or low-price tickets. That responsibility has to be involving your artists in the education and wellbeing of the community you exist in."
This is exactly what The Actors' Gang does. In addition to staging and touring plays, the company also runs education programs in 10 Culver City or LAUSD schools, holds a free after-school program for elementary and middle school kids, and works with inmates in the California prison system through an initiative called The Prison Project.
Directed by Actors' Gang member Sabra Williams, The Prison Project uses the core emotional principles of commedia dell'arte and Théâtre du Soleil — happy, sad, afraid and angry — in its drama workshops in order to help inmates, who've been conditioned to hide their feelings or rely solely on anger, engage with the full range of their emotions.
"The work is about giving them tools to manage their emotional lives … so it becomes a gymnasium for their emotions," says Williams, adding that there is an 89% reduction in prison infractions by inmates who go through the program. "It's a safe space to heal their emotional trauma."
Even Robbins — who proudly shares that the program, according to a preliminary study, has also substantially reduced recidivism rates among participants — jumps in to direct and lead the prison workshops.
"A lot of celebrities put their names on things for the publicity, but Tim is not doing that. He's really dedicated to this work. When he comes to a prison, he comes to teach," says Williams. "It's the real deal."
Robbins, 57, expects the same level of commitment to public service from his actors. It's not required for The Actors' Gang members to volunteer, but it's certainly encouraged and engrained into the company's ethos.
"We have an understanding with our actors that part of what it is to be in The Actors' Gang is to commit to some kind of volunteerism, whether it's to sustain the theater or to write grants or to participate in our education programs," says Robbins. "I believe it's essential, not only for the wellbeing of the community but the wellbeing of the organization itself.
"When you work with people that have nothing — without education, without any kind of artistic programs in their schools, or without any kind of rehabilitation programs in prison — your perspective on what's important really shifts. It's really difficult to deal with the self-indulgence and narcissism of an actor after you've spent a day working with a guy who's on life without parole. The perspective shift is life-changing. It makes you understand the inherent power that creative programs have and how a commitment to this view of what art is and can be fundamentally shifts the art you produce and the kind of artists producing the work on our stage."
The Actors' Gang fall programming for its ongoing Season of Justice continues the thread of such socially-conscious work.
"The Exonerated," a play about six former prisoners freed from Death Row, follows the current run of "1984" — itself a haunting reimagining of the cell-like Room 101 in Orwell's dystopian novel.
"Harlequino," written and directed by Robbins, delves into notions of freedom and the philosophical underpinnings of commedia dell'arte, and will tour China in November after a late October run at The Actors' Gang.
This October, Robbins and company are also pulling the curtain back on the group's creative process by opening up its Sunday workshops to the public for "The Refugee Project," a work currently in development with a title that evokes major human migrations happening around the world right now.
"Tim is really hooked into the zeitgeist in a way that I've never seen before," says "Exonerated" director Cynthia Ettinger, also co-artistic director of The Actors' Gang. "He somehow seems to choose projects that a year or six months ahead of time don't seem as relevant, and then suddenly they become relevant right when we're about to open."
While Robbins contributes big ideas to help shape the artistic agenda of The Actors' Gang, he also spends a lot of time doing small, everyday tasks to keep the theater going.
"I'm always saying I wish we were taking a picture of him vacuuming right now, or sorting all these different sizes of nails," says Ettinger. "The public just has no idea the amount of love and care he puts into this theater. … He's just incredibly dedicated to it."
For Robbins, the work itself — and its impact both on stage and off — is the greatest reward.
"At this point, I only want to be working on material that I feel is elevant to the world we're living in. I have no real interest in being on a movie set for the sake of being on a movie set. … I find great inspiration from the work I've been doing in the prisons, in the schools and on the stages of The Actors' Gang," says Robbins. "I probably am happier now than I ever have been creatively."
The Robbins-directed production of "1984" continues at 8 p.m. Thursdays, 9 p.m. Fridays and at noon on Sundays through Oct. 8 at The Actors' Gang, 9070 Venice Blvd., Culver City. Tickets are $30 to $35. The next sessions of "The Refugee Project" happen at 7 p.m. on Oct. 2 and 16. "The Exonerated" runs Oct. 13 through Nov. 4. For the season's full schedule, visit theactorsgang.com.
Save